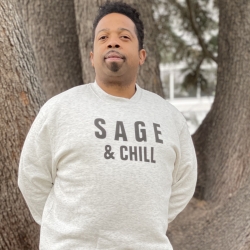 Shamont Hussey, LCSW
MSW Title IV-E Class of 2010
SF State Lecturer at Child & Adolescent Development and School of Social Work
Shamont Hussey is a proud Oakland, CA native. He has served as an advocate, case manager, and counselor for youth and families throughout the Bay Area for the last 20 years. In every position, Shamont has worked to promote positive youth development and the empowerment of marginalized communities. He started his college journey at Dillard University where he studied Public Health and fell in love with the rich and intoxicating culture of New Orleans.
Shamont finished his college journey at San Francisco State University where he completed his Bachelor's Degree in Child & Adolescent Development (Class of 2008) and a Master's Degree in Social Work (Class of 2010) where he completed the Title IV-E Child Welfare Training Program. Shamont currently teaches in both the School of Social Work and the Child & Adolescent Development. For the last several years, Shamont has worked as a Child Custody Recommending Counselor in Family Court, helping separated parents to make decisions in the best interest of their children. Prior to that, Shamont worked as a Child Welfare Worker with Alameda County Department of Children & Family Services. As a Child Welfare Worker, he worked in Family Reunification and Permanent Youth Connections.
Shamont has always felt called to the help-profession and music has been an important part of this calling. Music is a great way to connect, share and learn with the community you serve. Shamont also uses music for his own self-care practice. It keeps him grounded and recharged when the work is challenging. His self-care practice includes listening to music, dancing to music, creating new music and performing music with the band, MoonCandy Live House Ensemble.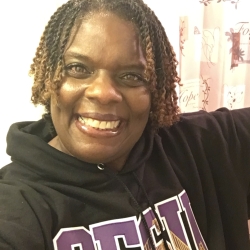 Dolanda Charles, MSW, PPSC
MSW Title IV-E Class of 2015
Child Welfare Worker at Alameda County Dept. of Children and Family Services
Dolanda earned a Master of Social Work Degree from San Francisco State University in 2015. She graduated from California State University, Hayward with her undergraduate degree in Liberal Studies with a minor in Human Development. Additionally, she holds a Pupil Personnel Services Certificate (PPSC) and she has earned a myriad of certificates that enhance her social work skills and enables her to better serve youth, families, and society at large. In 1995, Dolanda transitioned from the public health field to social services where she has worked in a variety of roles servicing diverse clients, providing life sustaining essential benefits to the general public, as well as case management supports and services to youth and families in foster care.  Dolanda is currently employed with the Alameda County Social Services as a Child Welfare Worker II (CWWII) for Children and Family Services in the Permanent Youth Connections unit helping youth make permanent connections and prepare for adulting post foster care dependency.
Dolanda has over 25 years of experience as a social services service provider working with underserved, underrepresented, high-risk populations, including clients experiencing mental health disorders and substance abuse. Time served positions Dolanda to lend her lived experiences, education, and training to influence Agency improvements. She is currently working with the Alameda County Children and Family Services Root To Bloom Workgroup established to provide more applicable and adequate practices, services, and resources to address the needs of commercially sexually exploited youth.
Dolanda also served on the Alameda County recruitment team aimed to attract families and individuals to partner with Social Services as foster families. 
Dolanda's collective public health and social work background enables her to be an extremely effective social worker who is comfortable servicing diverse groups of people. As a long-term public servant, Dolanda brings unique perspectives gained from her vast experiences supporting and empowering youth and families to unleash their untapped potential. She strongly believes there are many changes that happen as youth and families develop skills to help them move past their adverse experiences and grow with application over time. Dolanda has a knack for making meaningful connections, an insatiable appetite to help others maximize their potential, and she is especially inspired to help people use their life situations to parallel themselves to unprecedented levels.
Growing up in a military family that often struggled to make ends meet, Dolanda learned the value of a college education to remove the limited earning potential destined for those without degrees. Dolanda's innate desire to help people coupled with her dedication, hard work, and determination to avoid a life of poverty and mediocrity inspired her to earn a Master of Social Work Degree. She is the third of six children and a first-generation college graduate on a mission to lead by example. Empowering people provides Dolanda with enormous gratification. A strong believer in the power of positive thinking, she has personally found great benefits in implementing wellness measures in her own life, including meditation, exercising, and spending quality time with family and friends as frequently as possible. She enjoys traveling and a good Netflix binge but can also be found relaxing by the water.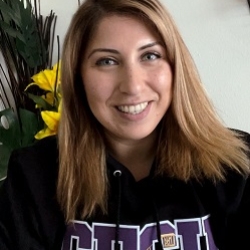 Knar Kahkejian, LCSW
MSW - Title IV-E Class of 2016 
Psychological Services Provider at Glendale Unified School District
Knar Kahkejian earned her Master's degree in Social Work and the Pupil Personnel Services Credential from San Francisco State University in 2016. As a part of the Title IV-E cohort at SFSU, Knar began working in child welfare upon graduation, with San Mateo County Children and Family Services. In 2018, Knar relocated to the Los Angeles area to gain clinical experience, with the goal of becoming a LCSW. In March of 2021, almost five years after receiving her MSW, Knar became a Licensed Clinical Social Worker. Knar's experience ranges from working in residential facilities with youth in foster care and on probation, Department of Children and Family Services, within the education/school system, preparing elementary students with severe trauma and behavioral issues to reintegrate back into mainstream classes, community based mental health care, and with adults in private practice. She now primarily works as a Psychological Services Provider with Glendale Unified School District. In addition to her role with GUSD, Knar is paneled with Kaiser Permanente and Anthem Blue Cross to provide clinical services to patients within a group private practice. 
Becoming a Social Worker has provided Knar a unique lens while working with diverse individuals and populations that struggle with various challenges. She draws from her expertise in social work and clinical practices to empower her clients to promote change within themselves. Knar attributes her accomplishments to the education she received at SFSU and believes the invaluable lessons provided by each Professor and Instructor, will forever be embedded in the foundation of her career as a Social Worker and Clinician.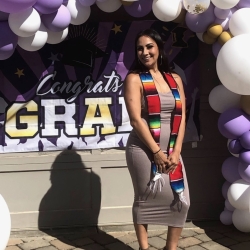 Marlena Bocanegra, MSW
MSW Title IV-E Class of 2021
Child Welfare Worker at Alameda County 
Marlena Bocanegra earned her Master's degree in Social Work from San Francisco State University in 2021. As a part of the Title IV-E cohort at SFSU, Marlena  began working in child welfare upon graduation, with Alameda  County Children and Family Services. 
During her time with SF State, her 1st year internship was at Pivotal -San Jose  and her 2nd internship was at Santa Clara County.