The School of Social Work responds to the needs and aspirations of various at-risk populations in the San Francisco Bay Area and similar urban communities. The program aims to educate undergraduate students for generalist social work practice in a variety of social service settings, and teach students to serve as change agents with urban, oppressed populations while enabling members of these populations to act on their own behalf. Our graduates provide direct services to people in need and, as administrators and organizers of social service agencies, make services more accessible and responsive to the communities they serve.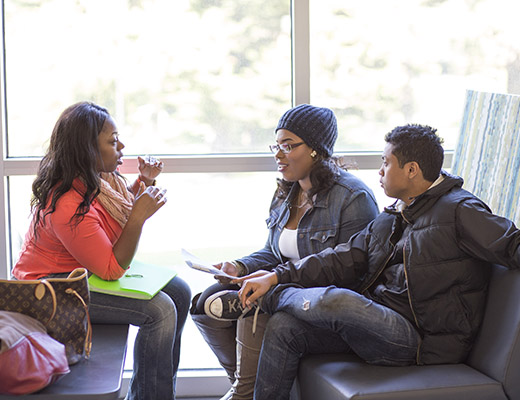 The mission of the School of Social Work is to provide educational foundations that promote just and secure communities, societies and global networks. It serves to educate human service providers for versatile, creative, and culturally sensitive practice in multiple settings and involving diverse populations. The School of Social Work promotes leadership, scholarship, activism, and change to achieve equity and social justice.
Our teaching incorporates a comprehensive range of knowledge, values, skills and experiences for social work practice at all levels of intervention. The outcome is to provide learning experiences that will instill critical consciousness and inspire students to become advocates for economic and social justice. The BASW Program at San Francisco State University is fully accredited by the Council on Social Work Education (CSWE).
The BASW curriculum emphasizes the integration of knowledge, values and skills. Commitment to professional values and ethics, to participate in constructive change, to support the right to self-determination, and to respect people's capacity to learn and grow are integrated throughout the program. Students are expected to develop a spirit of inquiry and to achieve a critical posture toward the social situation, the functioning of the profession, and of social agencies and their own performance.
For additional information about the program, including the curriculum plan and learning outcomes, please visit the BASW Program's Bulletin page. 
Eligibility Requirements and Prerequisite Information
Admission to the Bachelor of Arts in Social Work major is limited to students at the upper-division level (60 units or more but not exceeding 96 units).
Applicants must be current SF State students OR eligible for admission to undergraduate studies at San Francisco State University. 
Meet the general university admission requirements for upper-division applicants. Students must have completed the Lower Division General Education curriculum (or equivalent) and have junior standing (60 units or more but not exceeding 96 units) at San Francisco State University.
Have an all-college total GPA of 2.0 (California residents) or 2.4 (non-residents) or higher at the time of application.
Complete the five required prerequisite courses below with a "C-"grade or higher prior to admission into the BASW Program.
Please consult Assist to determine comparable or articulated coursework taken at California community colleges or CSUs. If the course in question was taken at institutions other than California community colleges, please visit Articulation page.
Applicants who have earned 96 or more units may not apply to an impacted major.  The School of Social Work is complying with this policy. Please visit the university policy for details.
Prospective students must submit the university application via Cal State Apply and supplemental application by the following deadlines:
Cal State Apply Application
October 1 - December 15
BASW Supplemental Application
February 28, 11:59 p.m. PST.
Step One: Submit Application to San Francisco State University via Cal State Apply
Current SF State Students 
For students already enrolled at San Francisco State University and who meet the eligibility requirements, a Cal State Apply application is not needed. However, students who have not enrolled in SF State classes for two or more full semesters must re-apply for admission to the university via Cal State Apply. 
Transfer Applicants
Submit an application through Cal State Apply. 
All official college transcripts must be sent to the SF State Office of Undergraduate Admissions by the due date.
Step Two: Submit BASW Supplemental Application
All current and transfer students must:
Complete all required materials below:

A written personal statement that documents interest in or experience with social work and human services; addresses community service, civic engagement, and voluntarism; indicates values and commitment to the profession; and reveals educational goals consistent with the School's mission
A resume
Optional: Letter of reference from a current or former instructor vouching for your suitability for the BASW Program.

Upload your materials to the digital BASW application folder by the supplemental application deadline. Incomplete and late applications will not be considered.  After completing the CalState Apply application, students who meet the eligibility requirements described above can access the supplemental application form on the BASW Admissions landing page.
We invite prospective students to join our information session to learn about BASW program, admission requirements, and application process.
Dates: TBA