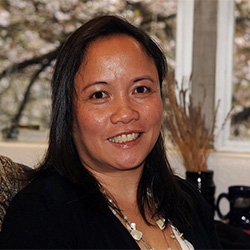 Jocelyn Hermoso
( She/Her/Hers )
Associate Professor and BASW Program Coordinator
Ph.D.
Phone: (415) 338-6187
Email: jhermoso@sfsu.edu
Location: HSS 212
Office Hours:
Wed:
4:00 p.m. - 5:00 p.m.
or by Appointment
Thu:
4:00 p.m. - 5:00 p.m.
or by Appointment
Biography
Jocelyn has been with the School of Social Work since 2006. Her research interests are in the areas of international social development, gender and peacemaking, human rights, displaced populations, social capital, civil society, community organizing, community-driven development, and social justice pedagogy. Jocelyn teaches policy analysis, research methods, social welfare history, community organizing, diversity; and independent studies in international social work and peacemaking. She has been actively involved in developing the new macro practice curriculum for the MSW program and a new foundation course on poverty. As part of her commitment to internationalizing the curriculum, Jocelyn developed study abroad programs for the undergraduate and graduate programs, and developed two electives with global practice foci. Before coming to SF State, Jocelyn worked extensively in international social development with NGOs and multilateral organizations both here and abroad.