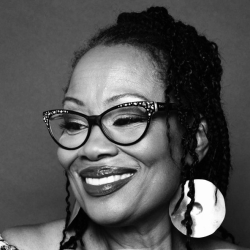 Queen Adu-Poku
( She/Her/Hers )
Lecturer
MSW, LCSW
Email: queenadupoku@sfsu.edu
Location: HSS 217
Office Hours:
Mon:
11:45 p.m. - 12:30 p.m.
and by appointment
Mrs. Queen Adu-Poku, LCSW is from San Francisco, California and holds a Master's in Social Work. Mrs. Adu-Poku previously worked at Highland Hospital in the Bridge clinics' MAT program providing mental health therapy to patients with substance use disorders. Prior to this position at Highland she worked as a medical social worker providing advocacy to survivors of domestic violence and sexual assault. 
Mrs. Adu-Poku has over 27 years of experience in the field of social work. She worked as a Protective Service Worker (Child Welfare) in various sections of Child Welfare from emergency response to permanent planning of foster youth, serving families and Children in that capacity for 16 years. Mrs. Adu-Poku transitioned into private practice as a Licensed Clinical Social Worker where she began her clinical work in early childhood. She completed the 2-year Harris Early Childhood Mental Health Training Program which has a focus on reflective practice. She has worked for over 10 years in emergency departments at Kaisers Hospital as a Psychiatric Social Worker.
Mrs. Adu-Poku is the owner of a thriving group mental health therapy practice providing care to a broad range of diverse patients and disorders. Special attention is given to having care by providers who reflect culture, ethnicity, and language diversity. She is a trainer, consultant, clinical supervisor and provides mediation services. Mrs. Adu-Poku is a leader in the profession of Social Work. She leads with humility, compassion, and integrity. She is dedicated to contributing to the next generation of Social Workers through mentorship and providing advice to individuals interested in entering the field of Social Work.
To that end, Mrs. Adu-Poku joined the faculty at San Francisco State University in the School of Social Work and actively collaborates with the community in all things Social Work for the advancement of the profession. She is an expert on multiculturalism, identity issues and education for liberation. She is particularly gifted in her ability to provide advocacy to patients/clients as well as to various professionals and particularly to social workers who face work place abuses of power in the delivery of social services to vulnerable populations. Mrs. Adu-Poku loves to travel with her husband and sons where she experiences different cultures internationally.