Title IV-E Child Welfare Training Program
The School of Social Work is part of a consortium of graduate social work programs in California to administer the Title IV-E Child Welfare Training Program. This program, administered by the California Social Work Education Center (CalSWEC), was created to prepare MSW students for careers in public child welfare service. The full-time program provides a number of student stipends ($18,500 per year) for two years of graduate school. In return for receiving a stipend, students must work in public child welfare for at least two years after they graduate.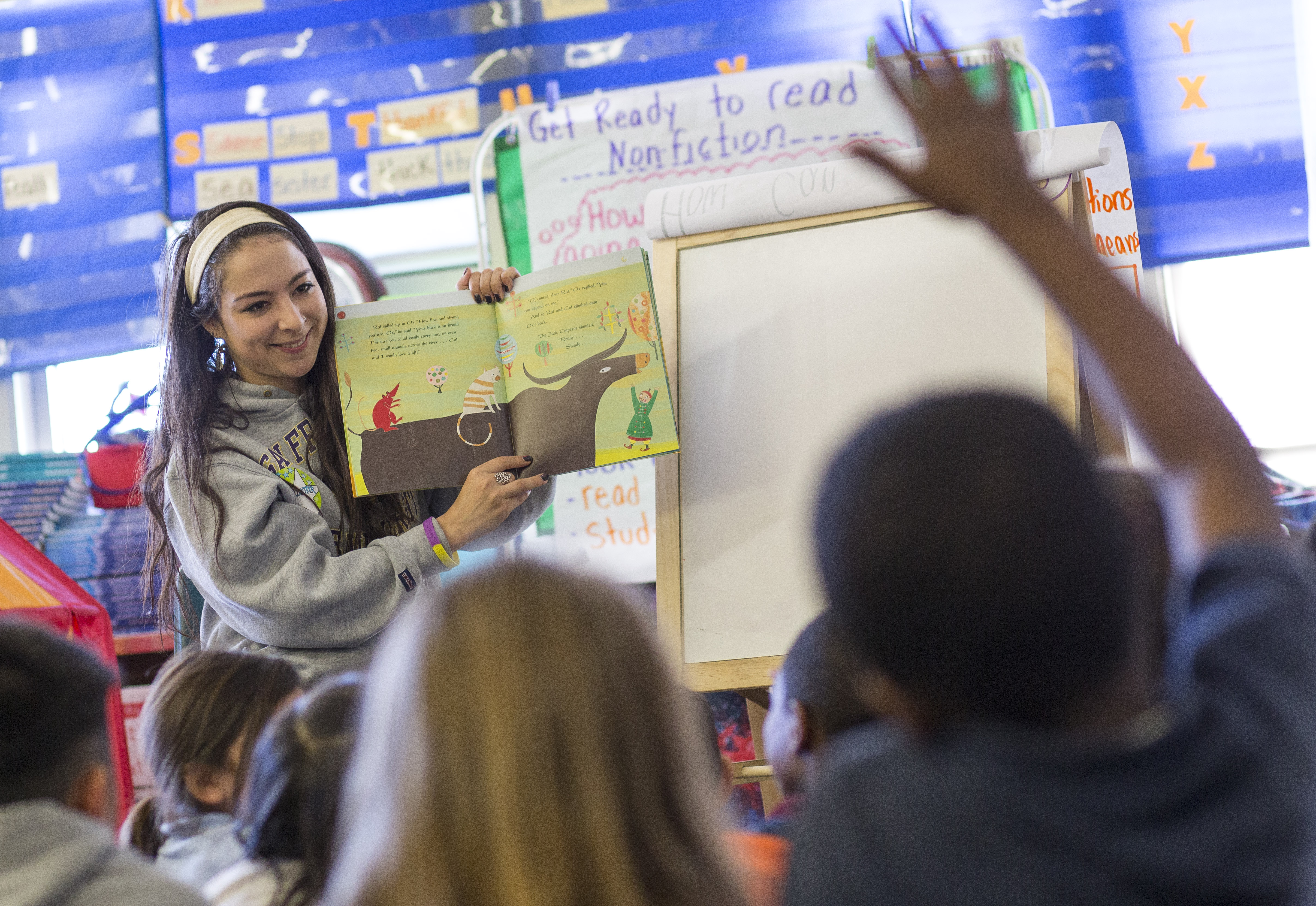 Students who apply to the MSW program are also provided the opportunity to apply for the Title IV-E Child Welfare Training Program simultaneously. Applicants will go through a selection process that includes a panel interview. Priority is given to applicants who are current employees of county child welfare agencies and applicants who reflect the diversity of clients served by California's public child welfare agencies. Students who receive the Title IV-E stipend award must attest that they have never been convicted of a felony or misdemeanor crime or any crime involving harm to children that would disqualify them from service in a county public child welfare services agency. All students must submit to live scan and criminal background checks via the Child Welfare Services/Case Management System (CWS/CMS) for second-year placement. Continuation of this program is subject to funding availability.
For detailed information about course requirements and more please visit the MSW Program's Bulletin page. 
Eligibility Requirements and Prerequisite Information
Applicants must have earned a baccalaureate degree from a college or university that has been accredited by a recognized regional accrediting association. BASW graduates from a CSWE accredited BASW program, will have their transcript reviewed to determine courses that may be waived due to redundancy. Additional courses/electives will need to replace those classes waived. The total required credit count for graduation is 60 credits/units.
applicants must have a GPA at or above 3.0 in undergraduate degree or in the last 60 semester (90 quarter) units completed.
Volunteer experience is not required but is a plus.
GRE Test is not required.
Current employees of county departments of social services must be on educational leave (i.e. not receiving pay from the agency) during the academic year. They may work during break periods and summers. 
Obligations
Applicants must agree, upon graduation, to work in a county child welfare services agency for a period of two years.
Applicants must agree to participate in the complete child welfare curriculum as defined by the School; this includes special training classes before the start of both Fall and Spring Semesters and related field education requirements. 
Applicants must agree to undergo pre-screening for county employment (fingerprint/livescan and DMV background check), have a valid California driver's license, and secure use of a car as required for fieldwork.
Prospective students must submit the university and supplemental applications via Cal State Apply by the following deadlines:
Cal State Apply Application
October 1 - January 09 before 9 p.m. Pacific Standard Time.
Submit Social Work Title IV-E Child Welfare Program application to San Francisco State University and the required supplemental documents via CalState Apply:
MSW Personal Statement
Writing Assessment Essay
Title IV-E Essay
Resume Template Link
Unofficial Transcripts
Two letters of recommendation
All documents and questions related to the MSW program, including information for your reference, are located in the Program Materials section of the CalState Apply website. Each tab of Program Materials has detailed instructions on how to complete that section. Read all instructions very carefully before submitting documentation.
A stipend award committee will review all Title IV-E applications and interview selected candidates in February. The committee will then recommend admission to the School of Social Work and award the stipend. The selected candidate will receive an email notification.
For questions about the letter of reference submission and to learn about developing an impressive application, personal statement, resume, and upcoming workshops, please review CalState Apply Tips.
Please check your email for a notification when your reference has submitted a letter of recommendation. You are responsible to follow up with your reference to make sure that the required two letters of recommendation are submitted by the deadline.
The Title IV-E Program is driven by child welfare competencies that were developed by universities and county welfare directors. These competencies are integrated throughout the curriculum and are further enhanced by special workshops on current topics related to the field. Students are expected to maintain good academic standing (3.0 GPA each semester) and are required to complete the entire MSW Title IV-E Child Welfare Training Program, including two child welfare focused courses in the following order:
S W 843 Child Welfare Practice with Children and Families (3 units) in the spring semester of the first year.
S W 701 Social Policy Analysis (3 units) (Child Welfare content specific) in the fall semester of the second year.
In addition, students must attend mandatory training prior to the start of the Fall and SChild Welfare content specificpring semesters and any other Title IV-E group meetings. 
Field Requirements
All field placements must be approved by the Director of Field Education in consultation with the Principle Investigator and Project Coordinator. 
Students must complete four semesters of field work over the two years in the MSW program. One year must be in a county child welfare department or non-profit program serving Title IV-E eligible children and families. An additional year must be in a related county or non-profit program delivering services to Title IV-E child welfare clients.
First-year and second-year enrollment in Child Welfare-designated sections of SW 740 Field Instruction and SW 741 Field Seminar.
Work Payback Requirements
The School of Social Work will assist students by providing information about job openings and application procedures.
Students are required to abide by the contract they have agreed to and signed.
Students who are county employees on educational leave must return to work in their home county upon graduation and render one year of continuous and satisfactory full-time employment for each year of stipend award at a level appropriate to a new MSW.
Students are expected to secure employment in a qualifying agency at a level appropriate for the degree received providing child welfare services in California. The contract they have signed will specify applicable conditions and timelines. 
Students must meet contractual obligations regarding timely employment. Failure to do so will result in obligation to enter repayment for the full stipend amount plus any interest and fees. 
Students unable to secure employment as specified by their contract may submit a petition to CalSWEC for additional employment search time. 
Failure to Meet the Obligations of the Program
Students are responsible for payback under the following circumstances:
Unsatisfactory performance in class or in the field.
Failure to complete the MSW within the normative period.
Failure to accept appropriate employment.
Failure to qualify for employment, either as a result of failing an interview, medical, or psychological exam, or criminal clearance.
Conviction for a felony or of a crime involving harm to children.
Voluntary termination of employment before completion of the work requirement.
Termination of employment before completion of the work requirement due to poor work or improper conduct.
Violation of the NASW Code of Ethics.
Delay of Graduation
Students who cannot complete graduation requirements because of personal hardship or disability may request a postponement for one year with the approval of the School of Social Work and the California Social Work Education Center (CalSWEC) via a petition. . At the end of the approved postponement period, the student must return and complete his/her education or repay the stipend. Waivers of repayment may be made in the case of permanent disability or death.
Terms of Financial Repayment
Interest rate of 6%, collection costs, and repayment periods will be discussed with the School of Social Work and the Loans and Receivable Departments of the University in all repayment situations. Any money recouped from students will be forwarded to CalSWEC and deducted from future charges to the State and Federal governments.
CONTACT INFORMATION
Lucy Fuentes, LCSW #88943
Title IV-E Project Coordinator
San Francisco State University-School of Social Work
1600 Holloway Avenue San Francisco, CA 94132 Email: lfuentes@sfsu.edu
We invite prospective students to join our information session to learn about MSW program, admission requirements, and application process.
Dates: TBA